1) Because it brings in business.
Raise your hand if you want more sales? Yeah, me too!
Great! Now think about the customers you want:
What are their age and sex?
What are they interested in? Hobbies, typical jobs etc…
How long do they take to make a decision? Is it a long process? etc…
Every time you write a blog post it increases the chances of you popping up in search engines.

To stop you wasting time on bad blog writing, try this:
Pick very specific topics about your business. Think of a problem your target audience has and write about it.
Post your blogs to social media. Twitter, LinkedIn, Facebook, Pinterest — which helps expose your business to a new audience that may not know you yet.
You're strengthening your social reach with blog content and driving new website visitors to your blog via your social channels. Quite a symbiotic relationship, if I do say so myself.
So, the first benefit of blogging? It helps drive new traffic to your website and works closely with search engines and social media to do that.
2) It helps convert current visitors into sales.
Current leads that you are getting every month will love the extra content as blogs support your expert status. A lot of business owners have years and years of experience, so turn that knowledge stored in your head into words to create more leads.
Make sure you include a call to action on each blog, like a link to your contact page.

To be super clear this is how traffic-to-lead conversions works:
The visitor enters your website
The visitor sees your call-to-action
The visitor clicks your call-to-action and gets to a landing page with a form
The visitor fills out form, submits information.
That is how you turn that traffic coming to your blog into leads for your sales team.
Note: Not all of your visitors will become a lead. That's okay, no website converts 100%. Record each month's conversion and strive to improve it each month.
3) It helps establish authority.
The best business blogs answer common questions their leads/customers have. If you're consistently creating content that's helpful for your target lead/customer, it'll help establish you as an authority in their eyes. This is a particularly handy tool for Sales and Service professionals.
Can you imagine the impact of sending an educational blog post you wrote to clear things up for a confused customer? Or how many more deals a salesperson could close if their leads discovered blog content written by their salesperson?
"Establishing authority" is a fluffy metric — certainly not as concrete as traffic and leads, but it's pretty powerful stuff. And if you need to tie the impact of blogging to a less fluffy metric, consider measuring it the same way you measure sales. Because at the end of the day, that's what many of your blog posts are. Think about the sales enablement opportunities blogging presents:
If visitors find answers to their questions they are more likely to become a sale.
Visitors that have read your blogs are generally more educated and this will help the sales process.
Salespeople who don't have in-depth knowledge of a specific topic can point the visitor to a specific blog.
4) It drives long-term results.
Wouldn't it be cool if the following made you sales:
Trip to Thailand
Going to the gym
Sleeping in
Well it's possible, through constant good quality blogging and search engines:
Say you sit down for 1 hour today and write a blog post. Lets estimate it gets you 100 views and 10 visitors. You get another 50 views tomorrow and 5 visitors. So on for the next few days.

That's not it though.

That blog now ranks in the search engines. That means for days, weeks, months and years to come you can potentially get traffic in to your site.

While you're sleeping in or riding a tuk tuk in Thailand you're also driving traffic and leads. The 1 hour blog writing you put in today can turn into hundreds of views and leads in the future.
This is called "compounding" blog posts. Not every blog post will fit into this category, but the more blog posts you write, the more likely it is that you'll land on one of those compounding blog posts.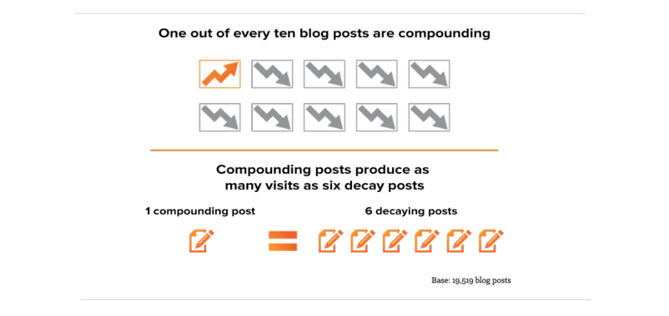 Hopefully this demonstrates the possibilities of business blogging. While you might not see immediate results, over time, you'll be able to count on a predictable amount of traffic and leads for your business without any additional resource investment — the work to get those leads is already done.
Questions and Answers
Q: How do I include social media links on my Google map?

A: Social media links and other 'new' Google knowledge panel features only appear on authority sites knowledge panels at the moment.

This might be something Google rolls out in the future.
Just for Fun